VIRTUAL EVENT: Lunch & Learn: Amplifying Your Home Based Food Service Business
VIRTUAL EVENT: Lunch & Learn: Amplifying Your Home Based Food Service Business
Wednesday, March 15, 2023 (12:00 PM - 1:00 PM) (EDT)
Description
Brought to you by the Virginia Black Business Directory in Partnership with the Virginia Department of Agriculture and Consumer Services (VDACS). If you're a food service business in Virginia looking to grow and expand, join us for our virtual Lunch & Learn! We'll cover the essentials, from regulations, application processes, exemptions for home kitchens, labeling requirements plus other important information about labeling requirements. Let's boost your businesses operations together secure your spot today! This event has something valuable for everyone looking to take their culinary dreams all the way up.
Our Guest speaker Is Emily, VDACS Food Technical Specialist for the Central Region. With VDACS, Emily conducts food safety inspections of retail stores, manufacturers, and warehouses. As a technical specialist, I also review applications for new food businesses and provide consultations to other Food Safety Specialists and members of the food industry. She is a graduate from the University of Mary Washington in Fredericksburg, majoring in biology and minoring in chemistry and environmental sustainability.
Emily will be sharing a presentation about operating a home-based food manufacturing business in Virginia. The presentation will also cover applicable regulations, the application process, home kitchen exemptions, labeling requirements, and other related topics. Although the presentation is geared toward home-based food processing businesses, much of this information is also applicable to commercial kitchen-based and stand-alone food manufacturers.
CLICK HERE TO REGISTER FOR EVENTBRITE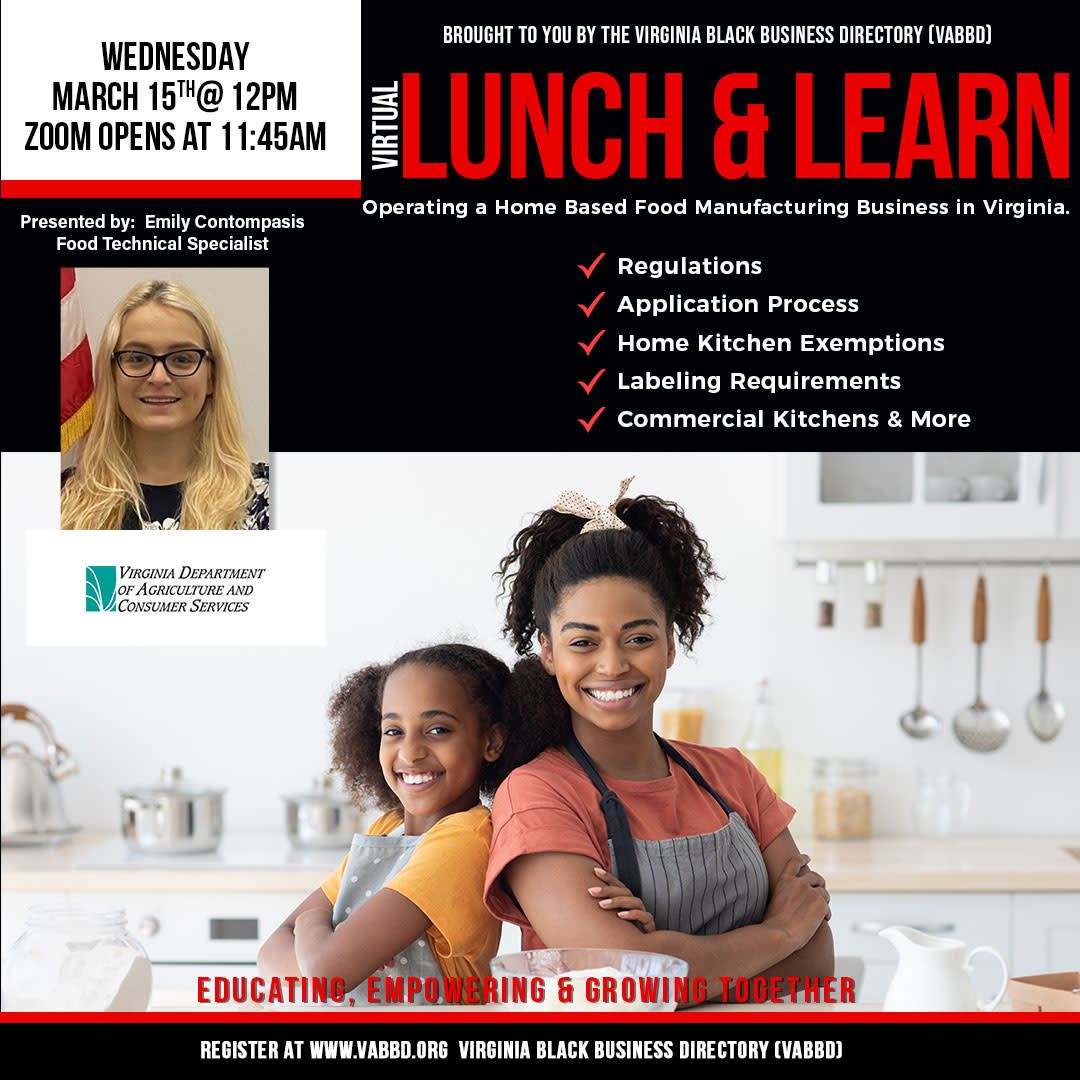 Online

Wednesday, March 15, 2023 (12:00 PM - 1:00 PM) (EDT)