Fredericksburg, VA: D&D Fall campaign
Fredericksburg, VA: D&D Fall campaign
Sunday, October 2, 2022 12:00 PM - Sunday, October 30, 2022 3:00 PM (EDT)
Description
New players to the TKE D&D program ONLY
The sessions will run October 2, 2022 to October 30, 2022
•Orientation and character creation day July 10th, 11-3pm
•Overview of expectations, rules, Q&A, and meet & greet
•First part with children and caregivers 30-60 minutes
•Second part with just the children to create their character(s) 3-3.5 hours If you cannot attend session 0, contact us at management@tkenonproft.org •Current day/time for sessions is Sundays 12-3pm
•Location: Black Knight Technology 1408 Princess Anne St, Fredericksburg, VA 22401
•The campaign is 5 sessions long (1 month long)
•4 spots are available for students. Due to our 501(c)(3) status, our partnership with Game Garrison has enabled us to keep costs down and include all supplies, even food and drinks for students during the sessions.
✓The cost includes: -In-person program rate
-One of the kind campaigns
-Full access to the host's D&D beyond account library of character and gameplay books (Mobile devices are needed to access it- if you need a mobile device, let us know)
-Opportunity to challenge the children through conflict, social interactions, decision-making and personal development.
-1 custom made character figurine -Snacks & drinks.
We have a 100% satisfaction guarantee, at any point you are not happy with our services we will refund your money no questions asked!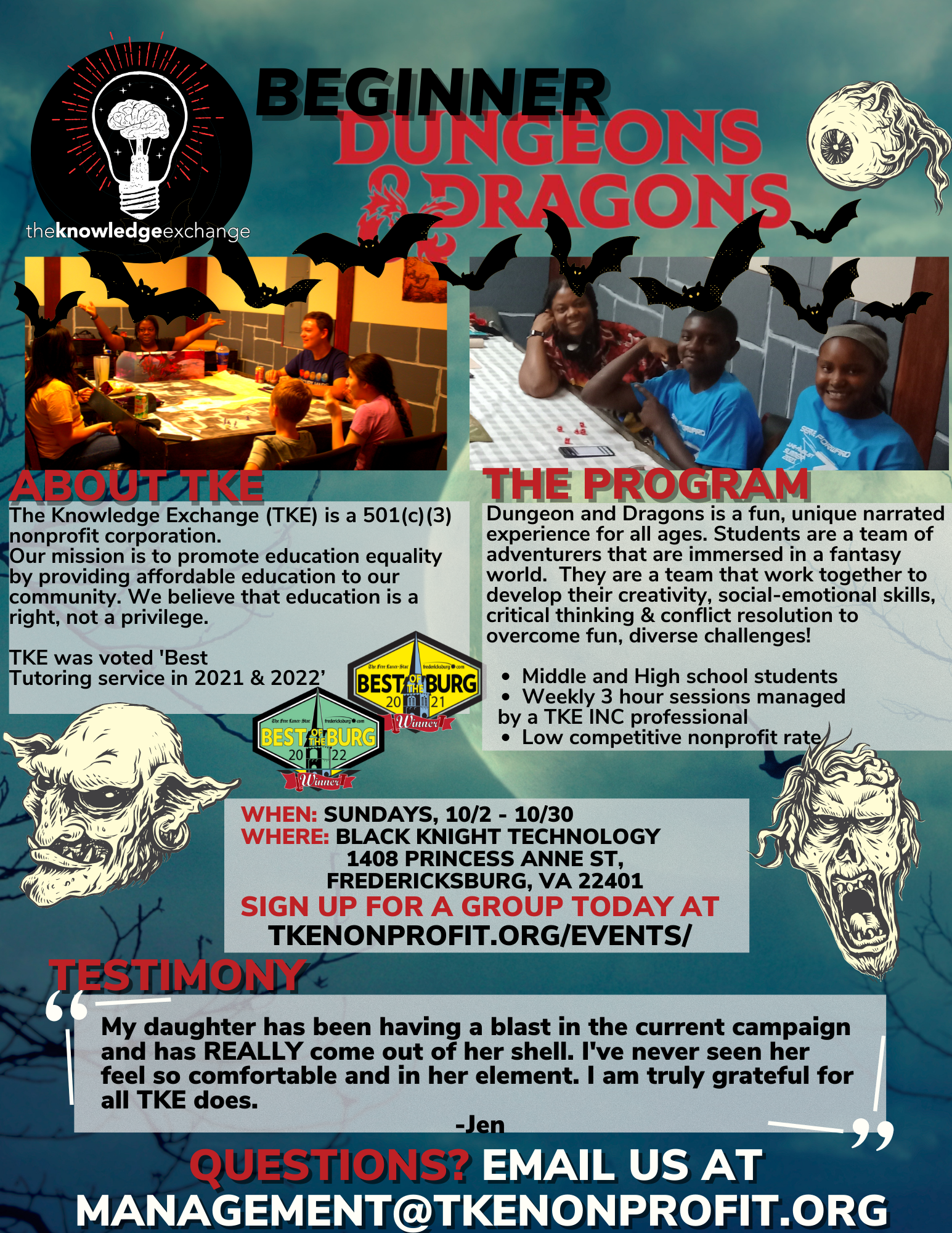 Black Knight technology
1408 Princess Anne St,



Fredericksburg

,

VA

22401

United States



Sunday, October 2, 2022 12:00 PM - Sunday, October 30, 2022 3:00 PM (EDT)
3
Categories
Educational Event