QUANTICO, VA: Stafford NAACP Religious Affair's Prayer Breakfast
QUANTICO, VA: Stafford NAACP Religious Affair's Prayer Breakfast
Saturday, May 6, 2023 (8:00 AM - 11:00 AM) (EDT)
Description
You are invited to fellowship with the Stafford NAACP Religious Affair Committee for its first Prayer and Scholarship Breakfast. The Prayer/Scholarship Breakfast will be held from 8-11 am on Saturday, May 6, at the Clubs at Quantico, 3017 Russell Rd, MCB Quantico, VA.
For nearly a century, the NAACP has had a strong relationship with the religious community, one of its closest allies. The Religious Affairs Committee of the NAACP collaborates with religious leaders in the community to conduct workshops for pastors, churches, and religious leaders on the history and programs of the NAACP, present moral and ethical interpretations of the civil rights struggle, and the church's relationship to this struggle for all denominations & faiths. The prayer breakfast aims to build our NAACP Community Network with local churches, religious organizations, and the community. Above all, we want to recognize God for who He is and what He has done for our community and for us making this a worthy time to come together and pray. Philippians 1:4 New International Version, "In all my prayers for all of you, I always pray with joy."
The Stafford NAACP looks forward to offering scholarships that make a tremendous difference in a young person's life. The immediate impact is the reward of being disciplined, having planned to step into adulthood with an eye toward an education that readies them for life based on the community's needs, and the desire to further studies at a higher learning institution or college. Proceeds of the event will go towards the scholarship fund.
Besides attending our event, consider becoming a sponsor! Your support will aid in our efforts to assist the community and provide educational Town Hall meetings and free programs for the public. If you choose to be a sponsor, your business or organization will be featured and recognized as a sponsor for this event during our program.
CLICK HERE FOR TICKETS FOR EVENTBRITE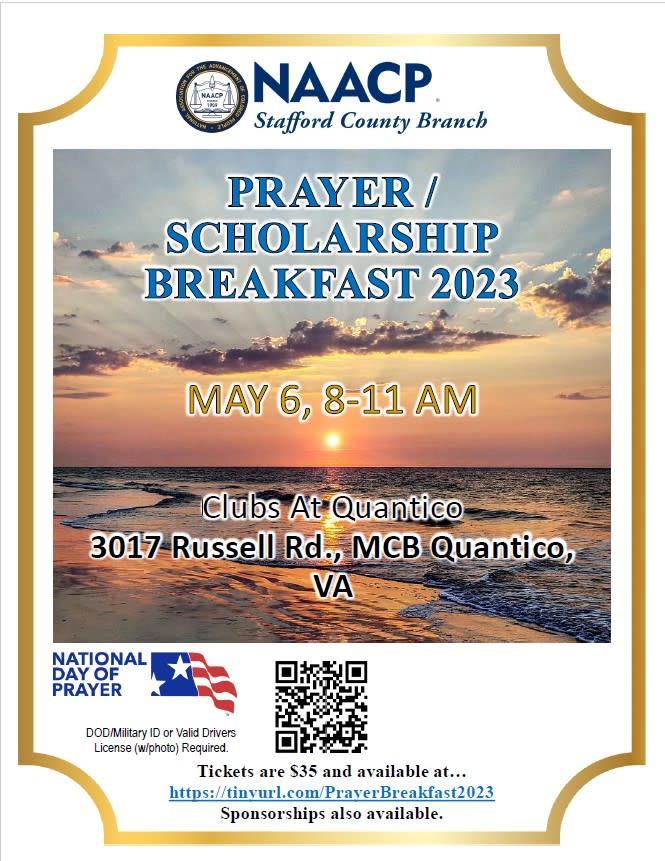 The Clubs at Quantico & Crossroads Events Center
3017 Russell Road



Quantico

,

VA

22134

United States



Saturday, May 6, 2023 (8:00 AM - 11:00 AM) (EDT)