TYSONS, VA - The Shades of Marketing Tour- DMV Edition
TYSONS, VA - The Shades of Marketing Tour- DMV Edition
Saturday, September 16, 2023 (10:00 AM - 3:00 PM) (EDT)
Description
Join us for an immersive experience at the Shades of Marketing event, where you can expect to embark on a journey of connection, growth, and celebration. Whether you're a seasoned professional or just starting out in the world of marketing, this event is designed to enrich your career and personal development while embracing the diverse tapestry of Black excellence.
🤝 **Create and Nurture Connections:** Connect with fellow Black Marketers from various backgrounds and experience levels. Build a network of like-minded individuals who share your passion for marketing and are eager to share insights, ideas, and experiences.
🎙️ **Learn from Industry Thought Leaders:** Gain invaluable insights from esteemed thought leaders and influencers in the marketing industry. Engage in thought-provoking discussions during our topical panel sessions, where experts will delve into the latest trends, strategies, and challenges shaping the marketing landscape.
🥂 **Celebrate the Spectrum of Blackness:** Immerse yourself in a networking brunch that celebrates the vibrant spectrum of Blackness. Engage in meaningful conversations while enjoying delectable cuisine, and capture memorable moments through candid photos and interactions.
💼 **Meaningful Interactions and Actionable Items:** Leave the event with not only new connections but also actionable takeaways for your personal and career growth. Our goal is to empower you financially, mentally, and emotionally, equipping you with the tools and insights to excel in your marketing journey.
📅 **Agenda:**
- **10:00 am - Check-in and Networking:** Kick off the day by mingling with fellow attendees, making new friends, and expanding your professional circle.
- **11:00 am - Overview and Speaking Sessions:** Immerse yourself in a series of engaging speaking sessions led by industry experts. Gain insights, learn strategies, and discover new perspectives that will enrich your marketing skills.
- **1:00 pm - Brunch, Networking, Photos, and More:** Indulge in a delightful brunch spread while continuing to network and connect with peers. Capture candid moments through photos and solidify the connections you've made.
🌟 **Mission:** Our mission is to empower, elevate, and educate Black Marketers throughout their marketing careers. We are dedicated to improving the marketing industry by championing the careers of Black Marketers in various roles, whether as employees, freelancers, or business owners.
Please keep in mind that all Shades of Marketing event tickets, including the DMV event, are non-refundable. Your participation not only enriches your own journey but also contributes to the collective growth and success of Black Marketers in the field.
Don't miss out on this opportunity to connect, learn, and celebrate within the dynamic world of marketing. Secure your spot today and be part of a transformative experience that will leave a lasting impact on your career.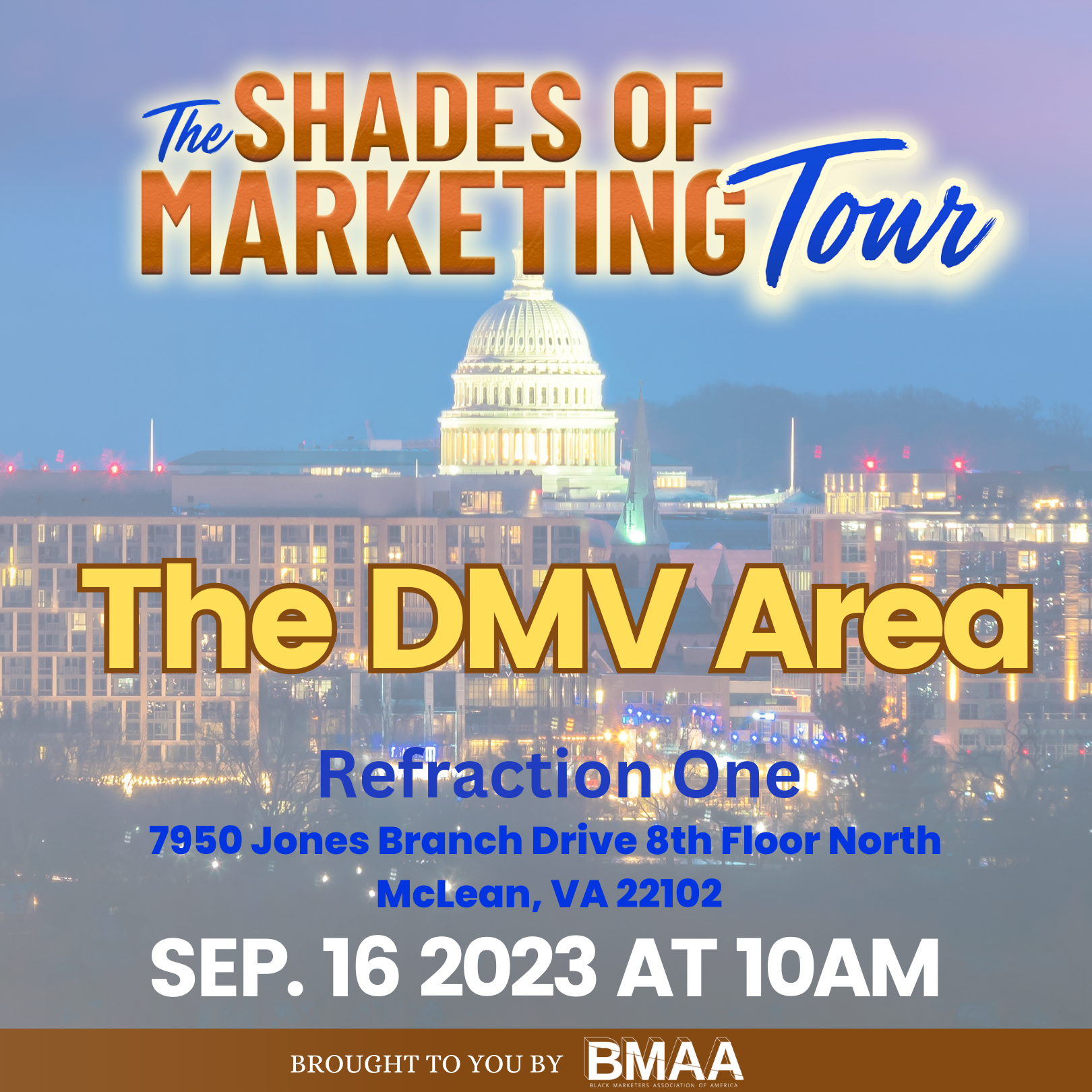 Pricing
General Admission -$95.00
Access to event - Access to brunch - Notebook & Pen - Networking with likeminded people
VIP Admission $115.00
Access to event - Access to brunch - Note & Pen - Networking with likeminded people - All-access to drinks - 1 headshot
VIP Plus $195.00
30sec promo video (edited) - Access to event - Access to brunch - Notebook & Pen - Networking with likeminded people - All-access to drinks -2 Headshots -30 min Event consult with Rescue Event Planning CEO & Founder Melissa Jakes or 75 min Career Workshop: Ascending the Corporate Ladder: Mastering Tips, Tricks, and Tactics to Build Strong Relationships and Secure Promotions *Bonus - $250 Value - 45 min Consult 1:1 Post event with Felicia
Saturday, September 16, 2023 (10:00 AM - 3:00 PM) (EDT)
September 16, 2023 10:00am to 3:00pm
Categories
Business Networking
Member Hosted Event